by John Kalmon
We had a great turnout for the presentation on cohousing by Charles Durrett, who took us through a verbal tour of many cohousing communities, accompanied by great photos and punctuated with stories that were engaging and enlightening. He described how cohousing improves peoples' lives by bringing a new level of social connection into their day-to-day activities.
As an example, Durrett recalled an elderly woman who moved from the home closest to the parking area to the furthest away because it improved her relationship with her neighbors, which she described as more important than her relationship with her car.
The idea of resource sharing was explained—not only lawn mowers and common-house amenities, but more importantly the opportunity to share one's time, knowledge or emotional support. All this can and does happen easily because of the arrangement and design of the structures, and because the people who have chosen to live in cohousing recognize that their social well-being and connections are among their highest priorities.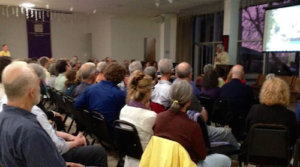 Durrett spoke of "social tax" as well, the work a community needs to put in to assure long-term success. This needs to be addressed early in the formation of a core group by establishing their goals and values, and learning how to make decisions as a group, often by some form of consensus. Stories of specific challenges faced by groups and how they overcame them were very informative.
The audience asked good questions. Stimulating conversation continued among attendees long after the presentation, and many pitched in without hesitation to stack the chairs!
To learn more about what is happening locally in cohousing, please continue to check our website and sign up to receive TCCN News, our e-newsletter, which will bring you all the latest news and events. We hope to see you at our next event on October 20th.