With a stormy night predicted, TCCN volunteers worried that the severe weather might keep away some of the 70+ people who had pre-registered for the Charles Durrett event. The concerns were unfounded. Almost double that number showed up!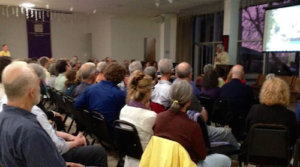 Two books that Durrett has written were available at the event and sold quickly: Creating Cohousing as well as Senior Cohousing. Local bookstores where these can be found are: Magers & Quinn, Present Moment, the University of Minnesota Bookstore, and Common Good Books. Please patronize your local independent bookstore.
Thank you to everyone who attended, and we look forward to seeing you at upcoming events.
TCCN is grateful for the support of the Social Justice Committee of the First Unitarian Society of Minneapolis for co-sponsoring and helping us to publicize this opportunity.